World-class Production Services Powered by ProTools.
Whether you're hiring my voice or my production skills, your audio will be treated to the same great care at the hands of an audio engineer and producer with more than 25 years experience. All audio at RichRoszel.com is recorded, edited and mixed using a top-of-the-line Yamaha 02R96 digital recording console, your choice of studio mics, and my favorite digital audio workstation, ProTools.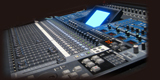 Your direction is just a phone call away, too! Whether you're the client or the producer, you can hear the read as it's being delivered to make sure you're getting exactly what you want.

That's why my studio uses the Telos 100 Delta digital telephone hybrid. You'll hear my voice exactly as the recording hears it -- directly from the mic. You'll know before you hang up that the read was just what you ordered. (It's more accurate and sounds much better than the speakerphone your last studio used.) Your session is important. Quality counts.
Production services include studio and location recording of audio tracks for all types of audio, video and film productions with the exception of music productions. That uses a different skill and equipment set, and while I do possess the skills, my studio and my remote gear is not appropriate for that purpose.

I do provide sound design and audio sweetening for video including ambient tracks, limited foley, sound effects. I'm licensed to provide production music from the FirstCom family of libraries which gives you access to over 140,000 music themes. Of course, full editing of those tracks is available so the cues will fit your productions exactly.
If I can make it happen, I will. If not, I provide limited consultation free of charge to help you choose the best production house for your project. Please call or e-mail me for details.
When the success of your product launch, your marketing campaign, your fundraising appeal, or your radio or television commercial is at stake, make the right choice:
Get Rich...Quick!

Here's How: