Who Is This Rich Person Anyway?
I was born and raised in Atlanta, GA. I got started in media production while I was still in high school and my broadcast career has included, among other things, television production and work at seven radio stations including stints on morning crews, heading production departments, and managing operations.

In 1988, I began a 20-year relationship with Christian Financial Concepts (later Crown Financial Ministries). I was first hired to fill-in as co-host for the nationally syndicated program, "Money Matters with Larry Burkett," which aired on approximately 400 stations throughout the US.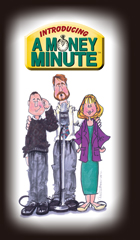 In 1990, I was asked to develop and launch a series of one-minute radio features to teach Biblical principles of money management. I wrote, directed and produced over 500 of the features, called "A Money Minute," which were carried on over 1100 radio outlets in the US, and my voice appeared on all but about five of them.
Whether through creative dramas, film narrations, commercials, online marketing campaigns, or presentations of my faith in Christ, making compelling use of audio is what I do best. To date, my voice and production skills have been heard on
Money Matters, A Money Minute, Your Money Map, Debt-Free Living, and Solar Flare from Christian Financial Concepts and Crown Financial Ministries

Adventures in Odyssey from Focus On the Family

Left Behind dramatized audio series from GAP Digital and Tyndale House

In the Marketplace with Janet Parshall from MBN

Seeking Him with Nancy Leigh DeMoss from Revive Our Hearts Ministries

HeyHoward! with Howard Dayton from Compass Ministries

Wycliffe: Unlocking God's Word for the Least, the Last, the Lost from Moody Broadcasting Network

Plus commercial, public service and corporate productions for Gannett Newspapers, Proctor and Gamble, Abbott Labs, CDW Healthcare, United Community Banks, the State of Delaware, the Georgia Department of Transportation, Platinum Properties Investor Network, Mission To The World, Consumer Credit Counseling Services and many more.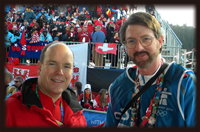 In addition to my regular voice work and production duties, I've also had the pleasure of working on the Olympic Broadcast team as a Commentary Audio Engineer both in Beijing (Slalom Canoe/Kayak, Summer Games 2008) and Vancouver/Whistler (Bobsled/Luge/Skeleton, Winter Games 2010).
Here I am pictured with Prince Albert of Monaco at the bobsled course in Whistler, BC. The prince, a former Olympian himself, was a guest commentator on French TV

-- one of approximately 30 broadcast networks I worked with. (Click on the photo for a larger image.) He was kind enough to trade Olympic pins with me after the broadcast. I gave him the official pin from Olympic Broadcasting Services. In return, he gave me the royal version of Monaco's Olympic pin -- one of the best souvenirs I brought home.
Speaking of home, my family and I live in Chestnut Mountain, GA, just north of Atlanta. I ride a 1981 Yamaha Maxim XJ650. I prefer Mac to PC but have been known to play with both. I like British humor -- even though it is different. And I have been known to play well with others.
Knowing all that, shouldn't YOU
Get Rich...Quick?

Here's How: